Off-load the Heel to Prevent or Treat Pressure Ulcers Through to Stage IV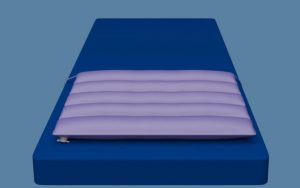 The WAFFLE® Heel Cushion is an alternative to a pressure care boot, the cushion is fitted directly to the bed mattress.
The Heel Cushion has been ergonomically designed to allow the leg to remain in a comfortable position with the knee slightly flexed instead of extended, giving support to the heel. Designed with ventilation holes, the cushion also allows the air to flow and moisture to vent, to help to keep you cool and dry
After inflating, with the pump that is included, place the Heel Cushion valve side down towards the foot end of the bed. You can then secure it around and under the mattress using the strap and buckle. The Heel Cushion can also be covered with either a flat or fitted sheet.
Heel care is provided by off-loading the heel to prevent or treat pressure ulcers through to Stage IV and deep tissue injury. They are ideal for use in bed, the operating room and intensive care.
Download the product brochure: WAFFLE® & TruVue® Range
WAFFLE Heel Cushion