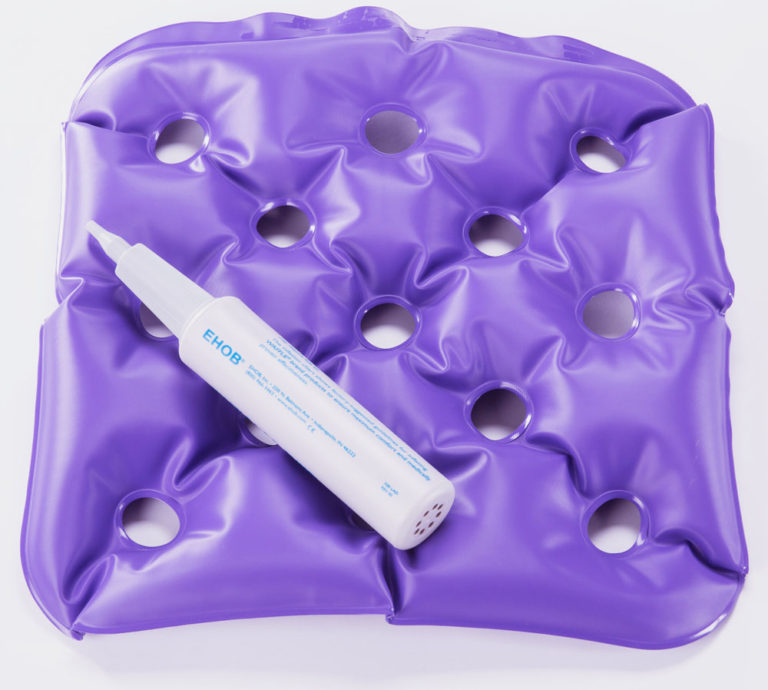 EHOB WAFFLE®️ Seating Cushions and Pads – Prevents and Treats Stages I-IV Pressure Ulcers
From one surface to another, wound care and prevention is an ongoing process for many caregivers. Our seating cushions help provide comfort and prevention in the areas where many people spend the majority of their day.
The conditions of seating applications are often overlooked in hospitals, nursing homes and in homecare because of the attention to bedding. But when you consider the amount of time that people spend sitting upright, whether in wheelchairs, daychairs, or other hard surfaces, it's vital to consider covering these surfaces to aid in seating comfort and prevention and treatment of pressure ulcers up through Stage IV.
All EHOB WAFFLE®️ Cushions and Pads feature a low profile design that eliminates the buoyant sensation typical to most cushions, yet cradles around natural bony areas to lift the patient off the seating surface.
For those seating applications where pressure reduction is indicated for the back and/or hips as well as the buttocks, EHOB WAFFLE®️ Seating Pads are the right choice.
Click on the SKU to go directly to our web shop..
| SKU | Description | Stock/Order | Material | Size |
| --- | --- | --- | --- | --- |
| 4230A | EHOB Seat Cushion Standard Size without Pump | Stock | TPU | 43 x 43 x 5cm |
| 4230B | EHOB Seat Cushion Standard Size with Pump | Stock | TPU | 43x43x5cm |
| 4240A | EHOB Seat Cushion Large without Pump | Stock | TPU | 48x48x5cm |
| 4240B | EHOB Seat Cushion Large with Pump | Stock | TPU | 48x48x5cm |
| 4250A | EHOB Bariatric Seat Cushion without Pump | Stock | TPU | 71x56x5cm |
| 4250B | EHOB Bariatric Seat Cushion with Pump | Stock | TPU | 71x56x5cm |
| 201TPU | EHOB Dual Chamber Cushion | Stock | TPU | 88x43x4cm |
| 4260A | EHOB Multi Care Pad with Pump | Stock | TPU | 91x43x5 |
| 4280A | EHOB Riser/Recliner Cushion (Short) with Pump | Stock | TPU | 99x56x6cm |
| 4290A | EHOB Riser/Recliner Cushion (Long) with Pump | Stock | TPU | 178x51x7cm |
Gienie
 Clinical®
OUTBREAKS, TERMINAL CLEANS, DECONTAMINATION 
Press & Leave decontamination solution  
Gienie Clinical® decontaminates a room in under 1 hour  
Safe and easy to

 

use

 

Non-

Toxic, Non

–

Flammable

 

No Capital Cost, No 

Labour

 

Cost

 

100ml canister effective up to 2

0 cubic

 

metres

 

250ml canister effective for 20-50 cubic 

metres

 

Works in small

 

areas

 

Air Quality treated as well

 
Available in: 100ml and 250ml 
A "Press and Leave" solution targeted for use specifically in healthcare environments where infections are known to commonly occur e.g. hospitals, ambulances, doctor's surgeries, child care facilities, dentists and care/nursing homes, toilets and shower rooms.  
NO Laundering of

 

Curtains

 

NO Steam cleaning of

 

Carpets

 

NO In-house 

Labour

 

Cost

 

NO Manual cleaning of surfaces post

 

treatment

 

Every surface

 

DECONTAMINATED

 

Fast – Multiple rooms complete in under an

 

hour

 
Code

 

Size

 

Treatment Area

 

GNE-100

 

100ml

 

20 m

3

 

GNE-250

 

250ml

 

20 – 50m

3

 
Compliance Notice: The 
Gienie
 clinical canister has been tested in accordance with BS EN 13697, BS EN 1276 and BS EN 1650
H5 Healthcare are an agent for Rebotec Australia who is an importer and distributor of the leading German manufacturer of mobility solutions.

The Dyna-Form® Mercury Advance is a dynamic mattress replacement system combined with the benefits of modern foam technology. It is specifically designed for patients considered to be at 'Very High Risk' of pressure ulcer development. Offering high levels of patient comfort, this unique system has the facility to 'step up' to that of a dynamic mattress when clinically required. Similarly, the mattress function can be 'stepped down' as the patient's condition improves.
These features make it particularly beneficial for use within the patient's home or palliative care environment and help reduce logistic and decontamination costs. The clinical benefits of a single system are equally applicable to those of a modern hospital setting.
A higher maximum weight capacity, up to 254kg, allows the product to meet the challenges of heavier patients.
All component parts are interchangeable and replaceable, maximising product life and reducing environmental impact. The outer cover comprising a high frequency welded, multi stretch and vapour permeable fabric satisfies the strictest infection control policies.
Contact your local H5 Healthcare representative or customer service on 1300 727 631.